Exception stage at the recent Salone Internazionale del Mobile has been the MACS Mazda Con-Temporary Space, where the Japanese multinational company, from April 9th to 14th, garnered success by participating actively with a relevant number of initiatives dedicated to contemporary art and design.

And at the MACS, temple of the new Mazda design philosophy, was presented - on April 18th, 2013 – in absolute preview the special version for Italy of the best-selling spider in the world: the new Mazda MX-5 CULT, based on MY2013 and on the powertrain 1.8 126 HP.

An exclusive event reserved to the members of the Italian Mazda MX-5 Register (RIM), the Official Club, operating on behalf of Mazda Motor Italia, active since 1995 with over 7.000 registered members.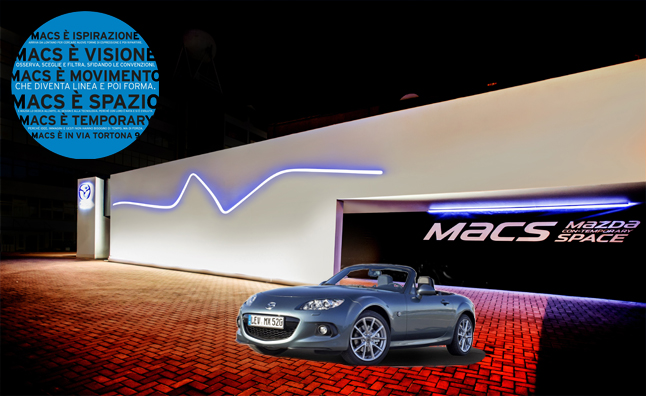 An evening out of the ordinary in one of the most "IN" spaces of the Italian fashion capital, to celebrate along with the MX-5 Brand Ambassadors also the new Mazda6, the second car of the new Mazda generation that shows the whole range of the modern SKYACTIV TECHNOLOGY and the 'KODO - Soul of Motion' design.

A warm, special and unique atmosphere within a space where art has found its greatest expression not only through the two new Mazda products exposed but also thanks to the video installations in 3D and HD as well as displays paintings, sculptures, photographs and drawings of the exhibition "Forma Fluens" of Giuliana Cunéaz and to the performance of Silvia Rastelli.

Next appointment for the MX-5 Ambassadors? The long awaited gathering "Andar per Langhe" of May 26th 2013 - that has now reached its 11th Edition - at the Mazda Dealership of Alba Gruppo Unicar.

For anything you should need, we of the RIM are available at the number +39 011.2740058 or email staff@mx5.it.

A blink!